****Happenings****
Annual Day Celebration (KG / SLS Section) Click More
KG / SLS Section Click Here
SSKV Montessori School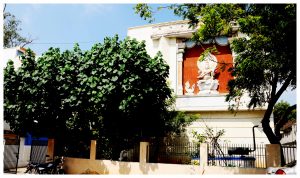 The Kindergarten section was started in 1956. This has grown in to a pre-primary section over the years, blending Montessori methodology to the pre-primary level requirement.It mainly aims to heighten the children's awareness and perception, and kindle the interest in learning. Its teaching objectives are mainly to make the child a sociable person capable of intelligent communication.
A new building with 18 rooms incorporating all the modern facilities needed for a Montessori school has come up and is functioning in the premises in Colla Chatram street. This facility also consists a Play Hall for the children.
SPECIAL ATTENTION FOR SLOW LEARNERS
A new section labeled so for convenience as the 'special Learner Section' has been a recent addition to the Montessori section. As our quest for excellence is in progress there is bound to be a group of children who trail behind. It is our Management's primary concern that these children should not fall out of the learning scheme altogether.
Therefore special efforts are being ploughed in consisting of a limited number of 'Slow learning Children' culled out from various classes for special attention.
These children are being taken along a parallel stream as prescribed by 'The Center's Human Resources Development Ministry'. The objective of these efforts is to make these children cope with the difficulties and thereby graduate through various phases of learning at their own phase.
We have employed specially trained teachers for handling the differently-abled children at various levels.